Not all introverts are shy, but some are. If you are an introvert, who happens to be very shy, finding the perfect job could be stressful. Many jobs do not include being around groups of people or doing a lot of speaking. Find a job that makes you feel comfortable. Check out some of the great career choices for those introverts that experience shyness.
Accounting Manager
Are you good with numbers? Becoming an Account Manager could be the job for you. A lot of the work is done alone. Creating financial reports and analyzing data are two of the day-to-day jobs you can expect to do. At least a Bachelor's degree in Business Administration is needed. Once you are hired you can expect to make an average of 80k a year. As a manager, you will oversee those below you. As the boss, you can do this one on one to avoid any large groups that may make you feel uncomfortable. Spend your day with numbers instead of people.
Freelance Writer/Editor
Becoming a Freelance Writer or Editor can all be done from your home. If you want training, there are plenty of online courses that you can take to sharpen your skills. Many websites are dedicated to matching writers and editors to employers. The best thing about it is that you never have to meet anyone face to face. It is a shy introvert dream to be able to do everything online or through the phone. You can work wherever you are comfortable, which means not having to go to an office full of people. The pay depends on how consistent you are at finding jobs.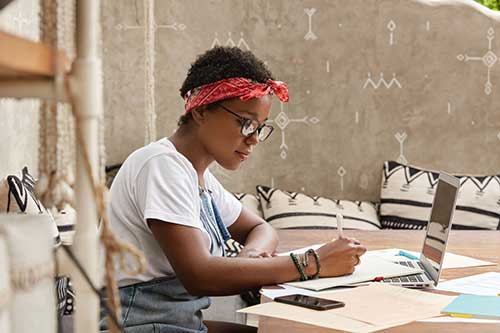 Librarian
Libraries are quiet and usually uncrowded spaces. Most of the tasks a librarian does are done alone. Cataloging and organizes the stacks of books and other materials. Managing the budget and scheduling the other staff members. Another part of the job is searching for materials visitors need. You will love the relaxing quiet and slower pace of working in a library. Librarians make an average of 60k a year, and you will need a Masters's degree. An excellent option for those that love knowledge and helping others gain knowledge.
Mechanic
If you would rather spend your days working with your hands, becoming a mechanic is something you should look into. Mechanics spend a lot of their time one on one with machines, not just cars. Many factories also need mechanics to keep their devices running. You will only be interacting with a few coworkers and owners when finding out their issues. The bulk of your day will be spent figuring out the puzzle and fixing things. Mechanics make an average of $18 an hour.
Finding the right job for your personality is key to having a happy life. Feeling uncomfortable every day that you work is no way to live. Find a job that makes your introverted ways an asset.